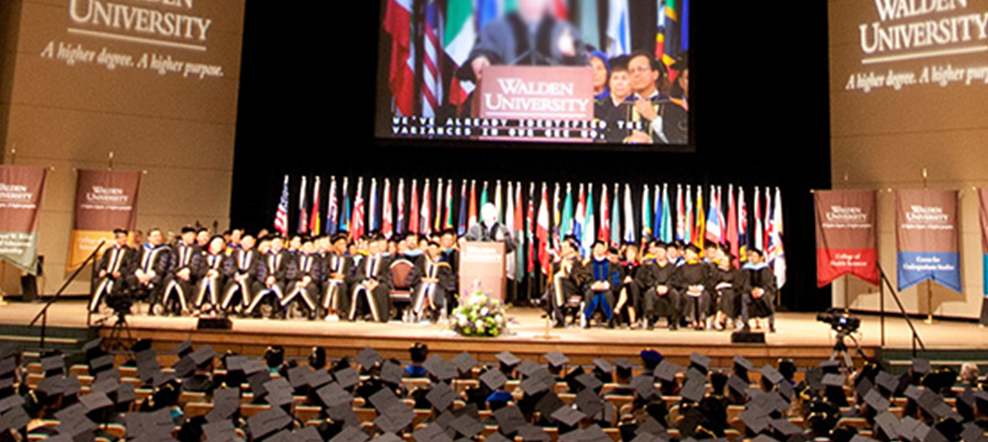 En Laureate lo desconocido no es una barrera, es cambio, es un comienzo, un desafío. Todos los días pensamos formas de innovar dentro de la educación, para desafiar las expectativas, reinventar carreras y así crecer más allá.
Student Success Advisor
---
Postule Ahora
ID del Puesto 48510BR
Fecha de publicación 05/11/2020
Institución Walden University
Ciudad Minneapolis
GENERAL SUMMARY
Student Success Advisors facilitate student success by defining and implementing proactive strategies that help students stay on track to fulfill their educational goals. Advisors build supportive and personalized relationships with students, manage their day-to-day expectations, and provide them with opportunities to stay connected to our online community. They advise students on university policies and procedures, program and degree requirements, and related academic matters; and work closely with other university support teams to ensure that student inquiries are addressed in a timely and effective manner.
ESSENTIAL DUTIES AND RESPONSIBILITIES
Serve as the primary guide to ensure that students stay on track to meet their educational goals.
Connect with new students upon acceptance of admission to ensure overall readiness and escalate outstanding matters that would affect their ability to have a smooth and successful start.
Assist students in understanding and completing degree requirements.
Assist students with appropriate course registration.
Advise students on university policies and procedures, program requirements and related academic matters.
Provide comprehensive outreach to students who are at risk of not meeting satisfactory academic progress.
Closely monitor students to proactively identify at-risk scenarios and identify opportunities to develop, implement, measure and improve academic success strategies.
Work closely with university staff to ensure that student inquiries are strategically coordinated and addressed in a timely manner, while supporting academic integrity and University policies.
Cognitively guide students to develop accountability for their decisions and an understanding of how those decisions impact their success.
Provide students with proactive guidance on acclimating to their new graduate lifestyle and building supportive personal environments and best practices to facilitate their student success.
Empower students to maintain effective connections to the University and its online community of learners.
EDUCATION and/or EXPERIENCE
Minimum 3-5 years of experience working in a service-oriented environment or university setting.
Master's degree required.
Must have a strong commitment to education and have the counseling or coaching skills required to effectively keep online students on track.
Strong problem solving and time management skills.
Ability to multi-task.
Excellent verbal and written communication skills required.
Working knowledge of Microsoft Office Suite.
Ability to successfully resolve student issues from request through resolution.
Effectively work with multiple databases and student platforms.
Skilled at connecting and building rapport with students from diverse backgrounds.
Creative, innovative, able to work independently and in a team environment.
Self-starter.
Ability to adapt to new and rapidly changing situations.
Familiarity with online learning and Internet technology a plus.
All applicants who are bilingual and able to demonstrate fluency in Spanish and Portuguese (written and spoken) are highly preferred.
Igualdad de oportunidades de empleo
Nuestro objetivo es tener una fuerza de trabajo diversa que represente a nuestros estudiantes y comunidades. Walden University es un empleador que ofrece igualdad de oportunidades de empleo y nos comprometemos a contratar a las personas en base a sus méritos. Las personas serán consideradas para puestos para los que cumplan con las calificaciones mínimas y puedan desempeñar con o sin adaptaciones razonables. No discriminamos por motivos de sexo, raza, color, religión, edad, nacionalidad, discapacidad física o mental, embarazo, información genética, orientación sexual, identidad o expresión de género, condición de veterano o cualquier otra condición protegida por el gobierno federal, estatal o local. De acuerdo con el Título IX de las Enmiendas de Educación de 1972, Walden University está obligada a no discriminar por motivos de sexo en sus programas o actividades educativos, y no lo hace. Esta prohibición se extiende a las áreas de admisiones y empleos. Para obtener más información sobre la política del Título IX de Walden University, incluida su aplicación, haga clic aquí.
Postule Ahora