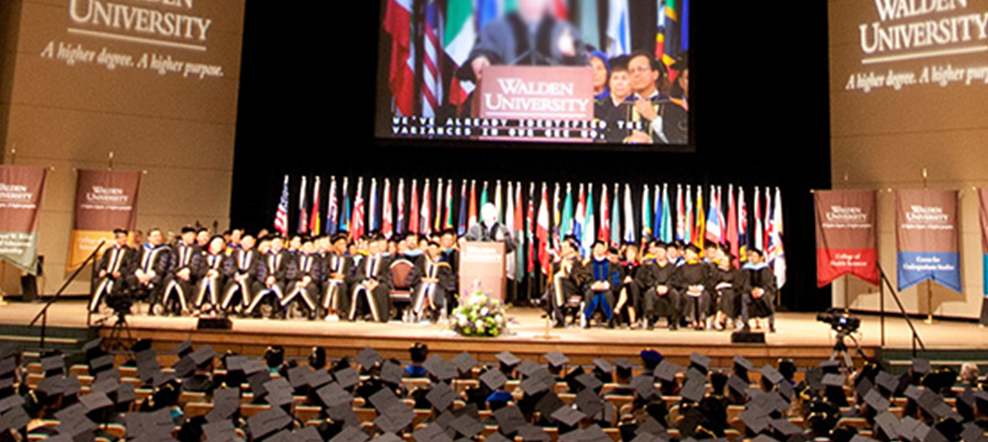 En Laureate lo desconocido no es una barrera, es cambio, es un comienzo, un desafío. Todos los días pensamos formas de innovar dentro de la educación, para desafiar las expectativas, reinventar carreras y así crecer más allá.
Academic Program Director - Clinical Practice & Training (Virtual)
---
Postule Ahora
ID del Puesto 45803BR
Fecha de publicación 03/27/2020
Institución Walden University
Ciudad Virtual
GENERAL SUMMARY:
Walden University is a pioneer in student-centered distance education. An accredited graduate institution with a mission for social change, Walden is dedicated to high academic standards and helping students make a difference in their professions, organizations and communities.
Walden University offers advanced degrees online to professionals whose work impacts others. Degree programs include health sciences, counseling, human services, management, psychology, education, public health, nursing, public administration, technology, and engineering. Our challenging programs are designed to help students make a difference in the lives of children, the health of communities, or the success of an organization.
The Academic Program Director will function as part of a leadership team in conjunction with the Dean. The people filling these positions will need flexibility and creative problem solving skills and a strong commitment to their professions, assessment, accountability and evaluation.
ESSENTIAL DUTIES AND RESPONSIBILITIES:
The Program Director is a full-time academic administrator who reports to the Dean or Associate Dean, and works closely with the School's academic administrators, academic advising and administrative staffs, and part-time faculty.
Maintains quality and integrity of the program curriculum
Work collaboratively with program faculty and university instructional experts to design curriculum
Coordinate faculty recruitment, orientation, development, mentoring, and evaluation
Supervise program faculty and coordinators
Organizing activities of specialization coordinators; working with other service units on faculty development matters
School and University committee service; scholarship; and evaluating/assessing the academic programs and student academic performance.
Developing and maintaining community amongst faculty and students.
Manage and support student success initiatives within the program
May include responsibility for mentoring, teaching and supervising student research
OTHER DUTIES AND RESPONSIBILITIES
May perform other duties and responsibilities that management may deem necessary from time to time.

TRAVEL REQUIREMENTS

Some travel could be required (minimally once per quarter)
TECHNICAL, MANAGERIAL, and PEOPLE SKILLS REQUIRED
To perform this job successfully an individual must be able to perform each essential duty satisfactorily. The requirements listed below are representative of the knowledge, skill, and/or ability required. Incumbents will be evaluated, in part, based on performance of each essential function. Appropriate reasonable accommodations may be made to enable individuals with disabilities to perform essential functions.
EDUCATION and/or EXPERIENCE:
Earned doctorate in field of study of Clinical Psychology, Industrial/Organizational psychology, or closely related field.
Candidates should possess a significant record of intellectual and professional contributions to the field of (School of Psychology), including experience in the practice of (Psychology)
Three to five years of assessment experience at the degree level of the program
Experience in chairing or serving on dissertation and thesis committees
Knowledge of accreditation and accountability processes as appropriate
Knowledge and experience in regulatory affairs and compliance
Commitment to advocating for the learning and development needs of students earning their degrees in a distance learning environment including students who are experienced professionals
Teaching, advising and mentoring; commitment to the promotion of applied research and the recruitment and development of a diverse faculty; excellent leadership, communication, team, and human relations skills.
Candidates should also have experience in faculty/staff development, supervision, evaluation and assessment.
Experience in developing and/or managing professional development programs
Knowledge of specialized accreditations in the field
Experience with distance learning preferred.
Evidence of compatibility with the mission of positive social change, broad access and professional excellence and our values of quality, integrity and student-centeredness.
LICENSURE and/or CERTIFICATION
Faculty Members must be appropriately credentialed, possess an earned degree in the discipline being taught, and may be expected to be licensed or license-eligible in order to teach in specific programs. Faculty Members must maintain their licenses and any appropriate certifications in order to continue to teach at Walden University. Faculty Members are also expected to maintain currency with research by reviewing articles, journals, and presentations. If participating in research, the Faculty Member may publish and acknowledge Walden University.
WORK ENVIRONMENT:
Work is performed primarily in a standard office environment, but may involve exposure to moderate noise levels. Work involves operation of personal computer equipment for six to eight hours daily and includes physical demands associated with a traditional office setting, e.g., walking, standing, communicating, and other physical functions as necessary.
Equal Employment Opportunity
Our goal is to have a diverse workforce that is representative of our students and our communities. Laureate is an equal opportunity employer committed to hiring based upon merit. Individuals will be considered for positions for which they meet the minimum qualifications and are able to perform with or without reasonable accommodations. We do not discriminate on the basis of sex, race, color, religion, age, national origin, physical or mental disability, pregnancy, genetic information, sexual orientation, gender identity or expression, veteran status, or any other status protected under federal, state, or local law.
Postule Ahora