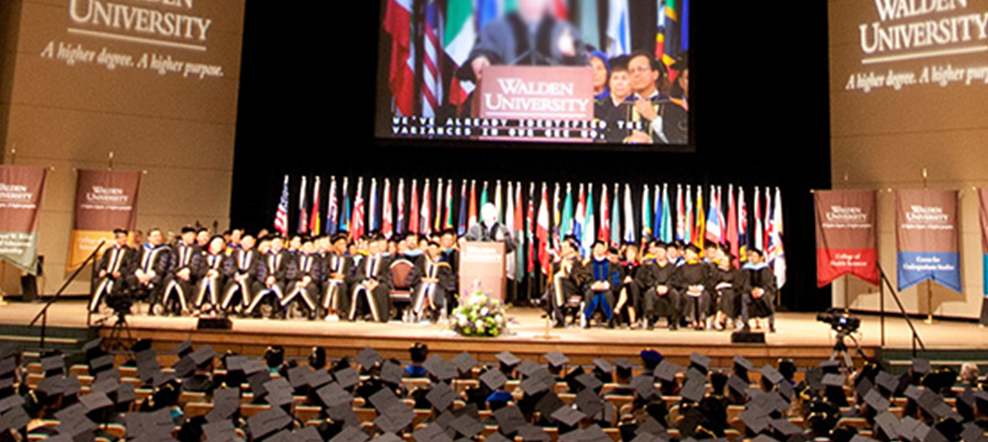 En Laureate lo desconocido no es una barrera, es cambio, es un comienzo, un desafío. Todos los días pensamos formas de innovar dentro de la educación, para desafiar las expectativas, reinventar carreras y así crecer más allá.
Academic Program Coordinator, Healthcare Administration (Virtual)
---
Postule Ahora
ID del Puesto 49074BR
Fecha de publicación 09/01/2020
Institución Walden University
Ciudad Virtual
Walden's School of Health Sciences seeks a full-time Program Coordinator/Core faculty to serve as the master's level course instructors/content experts for the Master of Healthcare Administration program/TEMPO modality. The position entails but not limited to program development, course instruction, course monitoring, training, developing faculty, course review, monitoring of Academic student Integrity, ensuring faculty standards and expectations, and faculty review under the guidance of the program director.
Tempo Learning® by Walden University is a way for students to earn their degree by demonstrating what they know, when they know it. Tempo Learning® allows students to have more control over their schedule and even impact the length of time their degree takes and total cost of their program.
The Tempo Learning® experience is competency-based, meaning students progress by demonstrating knowledge of a subject. It is a different way to complete their Walden degree vs. the traditional course-based experience.

Competencies are the skills, knowledge, and abilities a student needs to be successful in their chosen career field and. students demonstrate competencies instead of completing courses.

Competency Assessments are how students demonstrate their achievement of a specific competency.
GENERAL SUMMARY:
What to expect as a Walden core faculty member: Faculty members educate Walden University students by effectively using online technology and resources to provide an engaging and supportive student experience. Faculty members are expected to share their knowledge and give relevant, actionable feedback in carefully formulated timely communication to students. This is accomplished in a student-centric learning environment that is respectful, collaborative and follows Walden University and program specific guidelines.
General Expectations Include:
Supportive engagement at all times – build positive rapport, openness, trust, mutual inquiry and listening to students to help them learn, discover and apply research skills.
Effective online communications to maintain teaching and social presence and to stimulate critical thinking and "learning to learn" skills.
Master's Course Teaching & Learning Facilitation:
As indicated above, effective instruction will focus on the content of the course, and on assisting in the evolving development of each student at the master's level. Faculty are expected to engage with students to support learning, and are required to be active within the Blackboard /Brightspace LMS course (discussions, announcements, group areas, etc.) a minimum of 4 days per week, and to respond to student questions within 48 hours.
Faculty Members are required to verify the academic integrity of student postings and submissions and to provide grades and relevant, actionable, supportive feedback to students through Blackboard and or Brightspace.
Program Administration:
In addition to developing students, core faculty are responsible for monitoring the instructional quality of major courses of the program. Program Coordinator/Core faculty work in coordination with the Program Director to train and develop contributing faculty in the areas of expectations and student interaction.
Full-time leadership/core faculty are required to serve on committees and complete other duties as assigned to ensure the success of students and the program.
Academic Credentials:
Masters faculty members must be appropriately credentialed, possess an earned terminal degree from an accredited institution or recognized by a country's ministry of education in the discipline being taught.
EDUCATION and EXPERIENCE: Candidates should possess:
An earned doctorate in the field of study or a related field (required).
A record of scholarship, publication and research in Healthcare Administration that is appropriate to support master's students in the field of Healthcare, Health Services or Health (required).
Strong relationship-building skills with students with diverse backgrounds.
Successful mentoring relationships that support mutual inquiry and student outcomes.
Advocating for the learning and development needs of students.
Strong writing, research, and oral communication skills.
Three years of effective teaching experience at the degree level of program (preferred).
Online experience at the degree level of program (preferred.).
Ideally, a candidate should be able to demonstrate:
Success at building effective student learning relationships that support mutual inquiry and doctoral quality student progress and learning outcomes. This includes the ability to provide clear expectations and helping students "know what to do next".
Strong servant leadership dispositions. This includes the ability to listen carefully to students, and to be approachable and supportive within Walden's policies.
Strong time-management and co-project management skills.
Ability to work collaboratively across the school, college and University.
Ideally, a candidate should be strongly committed to:
Advocating for the learning and development needs of students earning their degrees in a distance learning environment.
Supporting the development of Walden University students to foster positive social change as scholar-practitioners.
Training and developing part-time faculty.
Best practices in teaching, research, advising and mentoring.
The ongoing professional development of themselves as faculty.
The willingness to perform other duties and responsibilities that management may deem necessary from time to time.
Training:
All new Faculty Members receive specific training from Walden University with respect to best practices in online learning facilitation, student mentoring, and effective supervision and review of faculty, courses and program review. They also receive socialization into the Walden University culture of quality, integrity, and student-learning centeredness and an orientation in their specific degree program.
.
TRAVEL:
Travel is required in order to attend faculty meetings and student graduation.
Igualdad de oportunidades de empleo
Nuestro objetivo es tener una fuerza de trabajo diversa que represente a nuestros estudiantes y comunidades. Walden University es un empleador que ofrece igualdad de oportunidades de empleo y nos comprometemos a contratar a las personas en base a sus méritos. Las personas serán consideradas para puestos para los que cumplan con las calificaciones mínimas y puedan desempeñar con o sin adaptaciones razonables. No discriminamos por motivos de sexo, raza, color, religión, edad, nacionalidad, discapacidad física o mental, embarazo, información genética, orientación sexual, identidad o expresión de género, condición de veterano o cualquier otra condición protegida por el gobierno federal, estatal o local. De acuerdo con el Título IX de las Enmiendas de Educación de 1972, Walden University está obligada a no discriminar por motivos de sexo en sus programas o actividades educativos, y no lo hace. Esta prohibición se extiende a las áreas de admisiones y empleos. Para obtener más información sobre la política del Título IX de Walden University, incluida su aplicación, haga clic aquí.
Postule Ahora