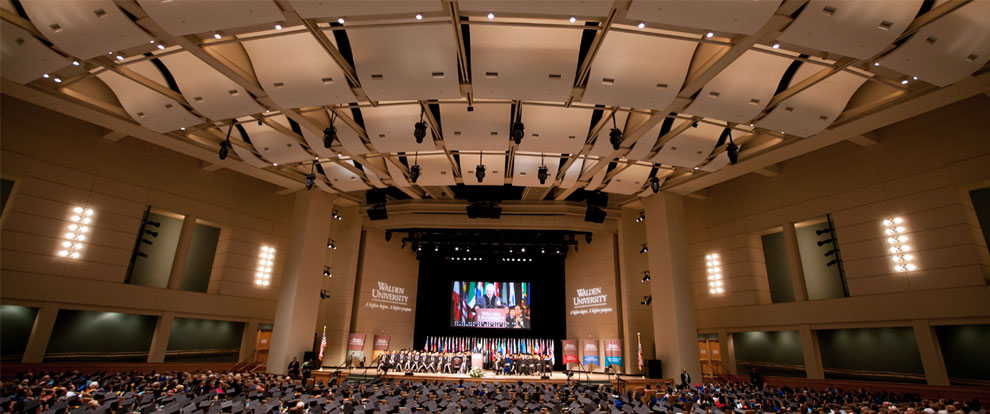 Walden University
Faculty, PT - DHA - Doctoral Committee
---
Postule Ahora
ID del Puesto 43285BR
Fecha de publicación 07/24/2019
Institución Walden University
Ciudad Virtual
For more than 45 years, Walden University has served the higher education needs of working professionals. More than 47,000 students from all 50 U.S. states and more than 150 countries pursue their doctoral, master's or bachelor's degrees online in a variety of fields, including: Business and Management, Criminal Justice and Emergency Management, Information Technology, Education, and Nursing. As part of the Laureate International Universities network, you'll be able to touch lives in your community and change the world of education.

As Walden grows, we continue its tradition of quality. Walden's School of Health Sciences seeks faculty for our Doctorate in Healthcare Administration program for part-time commitments. Share your professional experience and academic knowledge with students across the country and around the world. With a computer and a high-speed Internet connection, you can teach on your own schedule while maintaining other professional and personal commitments.

GENERAL SUMMARY:
The School of Health Sciences Doctorate in Healthcare Administration program is currently seeking part-time, contributing faculty members who are experienced researchers. These contributing faculty are primarily responsible for student research mentoring within the school's doctoral degree programs. Specifically, they will be required to serve on and/or chair dissertation committees, and will manage dissertation quality through service as a university research reviewer. These faculty members will report to the Academic Research Coordinator and Program Director.

Contributing faculty members serve in a part-time capacity to educate Walden University Students by effectively and proficiently using online technology and resources so that knowledge, information, feedback, and critique are imparted to and shared with students in thoughtful, carefully formulated, well written, and timely communications. This is accomplished in an environment that is respectful of student, the Faculty Member, Walden University, and the discipline in which the Faculty Member is involved. Faculty Members are expected to adhere to all Walden University Faculty expectations, which are clearly set forth to the Faculty Member at the start of his/her employment with the University. Primary duties and responsibilities include:
Chair dissertation committees
Serve as the second member of committees
Manage dissertation quality through service as a university research reviewer.
Participation in university and school based residencies if desired by applicant
Depending on the program's needs, may teach course(s) in the School of Health Sciences related to the faculty member's subject matter expertise.
Course Teaching/Availability:
Faculty Members are assigned a course, which is taught using the Blackboard platform, and are responsible for interacting with students within this platform. Discussion Boards for classrooms are open 24 hours per day, 7 days per week. Although postings to the classroom may be done at any time of day, they must be completed in a timely manner in accordance with the Faculty Handbook or other criteria established by Walden University. As such, Faculty Members are expected to be in the classroom a minimum of 4 days per week and responses to student questions must be posted within 48 hours. Faculty Members are required to verify the accuracy of student postings and submissions and to provide feedback and grades to students through Blackboard. In addition, Faculty members will publish their availability to students through course syllabi. The university suggests regular and predictable availability, such as online office hours or regular online chats.
Residencies:
Faculty Members may attend Residencies which are held domestically or internationally, where they will teach intensives and colloquia, and facilitate school and university-wide discussions.

Tools/Technical Skills:
To perform this job successfully an individual must be able to perform each essential duty satisfactorily. The requirements listed are representative of the knowledge, skill, and/or ability required. Incumbents will be evaluated, in part, based on performance of each essential function. Reasonable accommodations may be made to enable individuals with disabilities to perform essential functions.

Technology Requirements:
Faculty members are required to have an adequate computer to handle an electronic learning platform, keyboard, pointing device, and computer monitor. All other tools are knowledge-based or training-based through Walden University. The Faculty Member must be able to use Microsoft Office products (MS Word, MS Excel, and MS PowerPoint), zip software, and Adobe Acrobat and must have reliable Internet access as well as alternate access in cases where primary access becomes unavailable.

Travel:
Some travel may be required to attend academic residencies, National Faculty meetings and/or commencement activities

EDUCATION and/or EXPERIENCE:
PhD or Professional Doctoral degree in the field of Healthcare or related field from an accredited university or combination of professional healthcare work experience and education that has resulted in an expertise within the field of healthcare
Healthcare professionals such as Nurses, Allied Healthcare professionals, Healthcare managers, Long-term care administrators, and any healthcare professional with a desire to develop, refine and grow their research skills and work with students are welcome to apply
Commitment to advocating for the learning and development needs of students earning their degrees in a distance learning environment; commitment to the promotion of applied research that contributes to Walden's mission of contributing to positive social change; commitment to advocating for the learning and development needs of students earning their degrees in a distance learning environment.
Excellent leadership, communication, team, and human relation skills.
Experience with distance learning preferred.
APPLICANT SUBMISSIONS:
Applicants should submit a current Curriculum Vitae and cover letter. The applicant's cover letter should address how the applicant possess professional experience and education in the any of the healthcare administration and/or health service professional domains below:
DHA - Organizational management, leadership and governance, patient safety and quality, resource and financial management, healthcare delivery services, health IT, healthcare law and ethics, etc.

Health Services - coordination of care, accessibility of care, accountability of care, continuity of care, quality of care, coverage of care, comprehensiveness of care, etc.
Postule Ahora