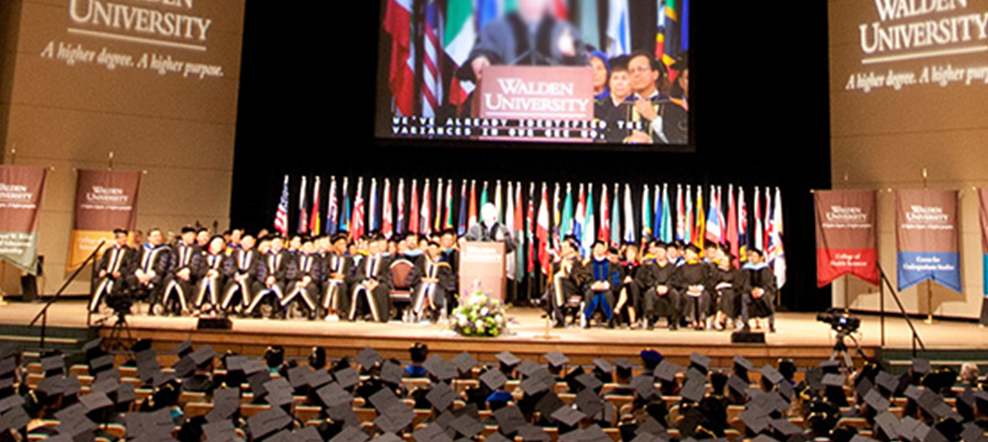 En Laureate lo desconocido no es una barrera, es cambio, es un comienzo, un desafío. Todos los días pensamos formas de innovar dentro de la educación, para desafiar las expectativas, reinventar carreras y así crecer más allá.
Faculty PT- Applied Behavior Analysis
---
Postule Ahora
ID del Puesto 39585BR
Fecha de publicación 09/21/2019
Institución Walden University
Ciudad Virtual
GENERAL SUMMARY:
Walden University is a pioneer in student-centered distance education. An accredited graduate institution with a mission for social change, Walden is dedicated to high academic standards and helping students make a difference in their professions, organizations and communities.
Contributing faculty members serve in a part-time capacity to educate Walden University Students by effectively and proficiently using online technology and resources so that knowledge, information, feedback, and critique are imparted to and shared with students in thoughtful, carefully formulated, well written, and timely communications. This is accomplished in an environment that is respectful of student, the Faculty Member, Walden University, and the discipline in which the Faculty Member is involved. Faculty Members are expected to adhere to all Walden University Faculty expectations, which are clearly set forth to the Faculty Member at the start of his/her employment with the University.
ESSENTIAL DUTIES AND RESPONSIBILITIES:
Training
All new Faculty Members receive specific training from Walden University in the techniques teaching, use of an electronic learning platform, specifics of the policies, procedures and degree programs of the School or College in which they are going to teach, socialization into the Walden University culture, assessment of academic integrity of student work (including use of
www.turnitin.com
), and research supervision of theses and dissertations.
Course Teaching
Faculty Members are assigned a course, which is taught using the Blackboard platform, and are responsible for interacting with students within this platform. Discussion Boards for classrooms are open 24 hours per day, 7 days per week. Postings can be made at any time but Faculty Members are expected to be in the classroom 3-4 days per week and to hold a minimum of two (2) office hours per week. Although postings to the classroom may be done at any time of day, they must be completed in a timely manner in accordance with the Faculty Handbook or other criteria established by Walden University. Faculty Members are required to verify the accuracy of student postings and submissions and to provide feedback and grades to students through Blackboard. Please note the specific teaching requirements for this position listed below.*
*NOTE:
For this position, faculty members will be required to work evening hours for leading 1-1/2 to 2 hours of synchronous teaching and discussions via video platform each week for each course.
OTHER DUTIES AND RESPONSIBILITIES
May perform other duties and responsibilities that management may deem necessary from time to time.
Faculty members will be required to work evening hours for leading 1-1/2 to 2 hours of synchronous teaching and discussions via video platform each week for each course.
MANAGEMENT/SUPERVISORY RESPONSIBILITIES
TECHNICAL, MANAGERIAL, and PEOPLE SKILLS REQUIRED
To perform this job successfully an individual must be able to perform each essential duty satisfactorily. The requirements listed below are representative of the knowledge, skill, and/or ability required. Incumbents will be evaluated, in part, based on performance of each essential function. Reasonable accommodations may be made to enable individuals with disabilities to perform essential functions.
EDUCATION and/or EXPERIENCE:
' Earned doctorate in the field of Psychology, Applied Behavior Analysis (ABA-D), or other areas as approved by Behavior Analyst Certification Board (BACB) - with a valid Board Certified Behavior Analysis (BCBA or BCBA-D) certification.
' Candidates should possess a significant record of intellectual and professional contributions to the field of Applied Behavior Analysis, including experience in the practice of Applied Behavior Analysis
' Teaching experience at the degree level of the program is preferred
' Commitment to advocating for the learning and development needs of students earning their degrees in a distance learning environment
' Teaching, advising and mentoring; commitment to the promotion of applied research and the recruitment and development of a diverse faculty; excellent leadership, communication, team, and human relations skills.
LICENSURE and/or CERTIFICATION
Faculty Members must be appropriately credentialed, possess an earned degree in the discipline being taught, and hold a valid BCBA or BCBA-D certification in order to teach in this specific program. Faculty Members must maintain their licenses and any appropriate certifications in order to continue to teach at Walden University. Faculty Members are also expected to maintain currency with research by reviewing articles, journals, and presentations. If participating in research, the Faculty Member may publish and acknowledge Walden University.
Walden University is an equal opportunity employer. EOE
Equal Employment Opportunity
Our goal is to have a diverse workforce that is representative of our students and our communities. Laureate is an equal opportunity employer committed to hiring based upon merit. Individuals will be considered for positions for which they meet the minimum qualifications and are able to perform with or without reasonable accommodations. We do not discriminate on the basis of sex, race, color, religion, age, national origin, physical or mental disability, pregnancy, genetic information, sexual orientation, gender identity or expression, veteran status, or any other status protected under federal, state, or local law.
Postule Ahora