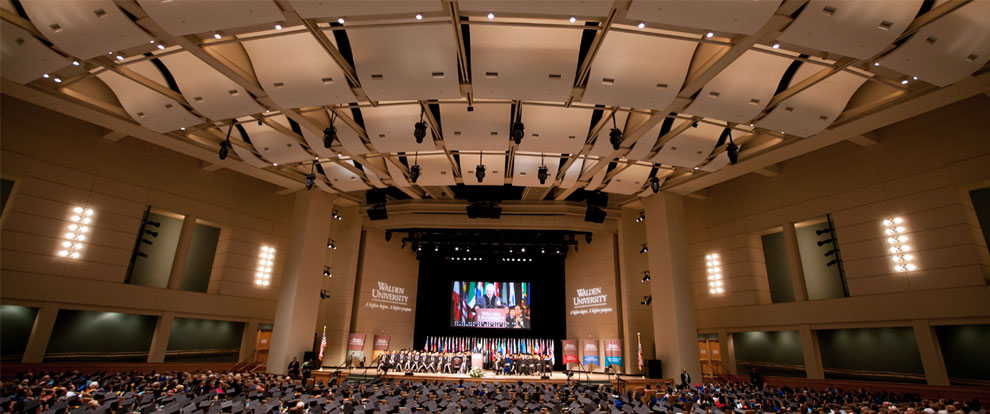 Walden University
Academic Coordinator - PhD in Health Services and Doctor of Healthcare Administration (Virtual)
---
Postule Ahora
ID del Puesto 43209BR
Fecha de publicación 08/24/2019
Institución Walden University
Ciudad Virtual
Walden University is an accredited institution that has been serving the higher education needs of professionals for more than 45 years. Offered online, Walden's doctoral degree programs are designed to provide a diverse community of career professionals with the opportunity to transform themselves as scholar-practitioners so that they can effect positive social change.
Walden's School of Health Sciences seeks a full-time research core faculty to serve as doctoral level course instructors/content experts for the PhD in Health Services. The position entails course instruction, dissertation mentoring, training and developing research faculty under the guidance of the program director.
GENERAL SUMMARY:
Walden University seeks dynamic, engaged and supportive doctoral faculty research mentors that have strong communication and learning-relationship skills for this full-time position in the School of Health Sciences Key responsibilities of this position are to teach and facilitate doctoral student learning during the coursework and dissertation phase of their program, to engage and support doctoral students as emerging scholar-practitioners, and to contribute to course development and improvement teams. Core research faculty also engage in instructional quality reviews, and training and developing part-time faculty.
What to expect as a Walden core research faculty member:
Faculty members educate Walden University students by effectively using online technology and resources to provide an engaging and supportive student experience. Faculty members are expected to share their knowledge and give relevant, actionable feedback in carefully formulated timely communication to students. This is accomplished in a student-centric learning environment that is respectful, collaborative and follows Walden University and program specific guidelines.
General Expectations Include:
Supportive engagement at all times – build positive rapport, openness, trust, mutual inquiry and listening to students to help them learn, discover and apply research skills.
Effective online communications to maintain teaching and social presence and to stimulate critical thinking and "learning to learn" skills.
Doctoral Course Teaching & Learning Facilitation:
As indicated above, effective instruction will focus on both the content of the course, and on assisting in the evolving development of each student as a doctoral scholar. Faculty are expected to engage with students to support learning, and are required to be active within the Blackboard LMS course (discussions, announcements, group areas, etc.) a minimum of 4 days per week, and to respond to student questions within 48 hours. Faculty Members are required to verify the academic integrity of student postings and submissions and to provide grades and relevant, actionable, supportive feedback to students through Blackboard.
Program Administration:
In addition to developing students, core research faculty are responsible for monitoring the instructional quality of major courses and in the dissertation phase of the program. Core research faculty work in coordination with the Program Director to train and develop contributing faculty in the areas of instruction and doctoral research.
Full-time core research faculty are required to serve on committees and complete other duties as assigned in order to ensure the success of students and the program.
Academic Credentials:
Doctoral Faculty Members must be appropriately credentialed, possess an earned degree from an accredited institution or recognized by a country's ministry of education in the discipline being taught.
EDUCATION and/or EXPERIENCE:
Earned doctorate in the healthcare or health related field.
A significant record of intellectual and professional contributions to the field, including professional publications and conference presentations.
Three to five years teaching experience at the graduate level as appropriate to the program.
Commitment to advocating for the learning and development needs of students earning their degrees in a distance learning environment.
Supervising student research at the graduate level as appropriate.
Excellent leadership, communication, team participation, and human relation skills.
Experience with distance learning preferred.
Ability to mentor and motivate adult learners in a distance-education environment.
Ability to work with adult learners with variable skill levels, various learning styles as well as diverse cultural and professional backgrounds.
Ability to work collaboratively across the University and external stakeholders.
LICENSURE and/or CERTIFICATION
Faculty Members must be appropriately credentialed, possess an earned degree in healthcare or health related field. Faculty Members are also expected to maintain currency with research by reviewing articles, journals, and presentations. If participating in research, the Faculty Member may publish and acknowledge Walden University.
BUSINESS COMPETENCIES
Microsoft Office
Online learning platforms
WORK ENVIRONMENT:
Work is performed primarily in a standard office environment, but may involve exposure to moderate noise levels. Work involves operation of personal computer equipment for six to eight hours daily and includes physical demands associated with a traditional office setting , e.g., walking, standing, communicating, and other physical functions as necessary.
Postule Ahora